"Bring me sunshine in your smile" or in my case in my wardrobe!
With summer yet to make an appearance yellow is a great way inject some colour in to your wardrobe and it a fabulous summer colour.
Luckily yellow is huge this year, all of the high street stores have some great pieces at the moment.
Now I'll be honest yellow isn't a colour I wear very much. Ive always been a bit nervous of such a bright colour but there are so many different shades you're sure to find a yellow to suit you.
Now if wearing yellow isn't for you, why not try a bag or shoes to bring a little sunshine in to your wardrobe.
I've seen a couple of gorgeous pieces that may well make it in to my wardrobe over the next few weeks.
The first being this gorgeous blazer from River Island.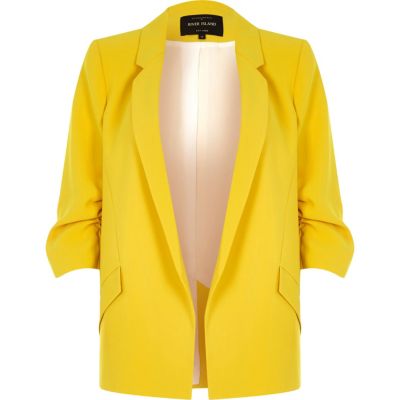 How gorgeous is this? I would wear this with jeans, a cami & bright clashing heels for a night out. Dress it down with trainers & a cool t-shirt for daytime. It would also look great over a dress or white trousers for more dressier occasions.
There are so many lovely yellow pieces these are just a few of my favourites.
The perfect wedding guest dress. I would be ordering this if I had a wedding to go to.
Tie Back Top
This would be perfect for work and for nights out.
Cold Shoulder Cami

Both these tops would look great with jeans, shorts or white denim

Leather Mules
Now I couldn't do a post on yellow without showing the instal-famous Zara yellow mules. These are gorgeous and so comfy, and such a great price for leather.
Hot Penang Bag
This is such a lovely summery bag and would add a great pop of colour to a neutral outfit
M&S Ruffle Sleeve Blouse
Good old M&S are really up-ing their game, this is lovely
I really like this dress and it would be versatile, wear with a leather biker jacket or denim jacket and trainers whilst the weather is still cool. You could throw it over a bikini and it would work for holiday cocktails.
Will you be wearing a pop of yellow? Here is more inspiration if you're not convinced...
Thanks for reading
Sara